Day by day, the planet suffers from environmental contamination by company waste, the extinction of flora and fauna, or the accumulation of garbage. Thus, multiple awareness campaigns have been carried out to prevent the destruction of our planet and home. Among those campaigns is recycling, be it cardboard, aluminum, glass, and plastic. This is done through the creativity of people, who give a second life to that container that was discarded and considered garbage. Plastic is one of the most widely used materials on the planet, as it is easily moldable, moderately resistant, and can be used to make almost anything. We bring you a lot of ideas to recycle yourself using plastic bottles.
1) BIRD EATERS
A good and simple option is to be able to use plastic bottles, especially small ones, to feed the birds that live near us. It is very simple; we just have to add some holes in which we introduce some spoons of some species of straws so that the food moves.
2) FLOWER POTS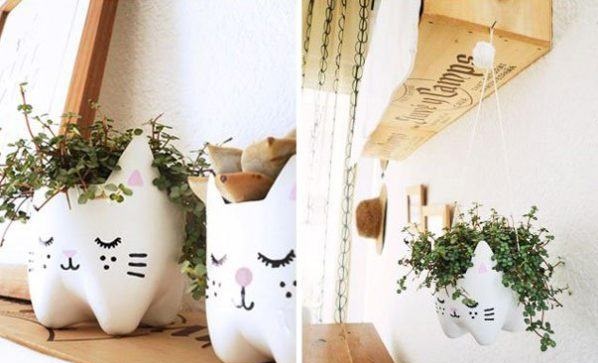 Making flower pots is very simple, using plastic bottles. We recommend that you make a small sketch with the shape we want (a cat, an owl, a dog, etc.), normally, animals that have some type of character such as large ears, so it will be much more funny. Once we have cut the bottle with the shape we want, we paint it in the desired color, we draw the details with an indelible marker pen and nothing else that remains for us to fill it with soil and plant our beautiful plants. If we also put some ropes or chains, we will have created a hanging planter.
3) CEILING LIGHT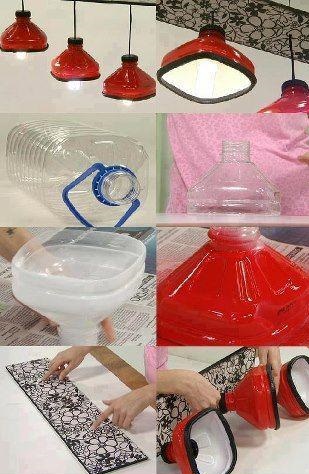 Incredible ceiling lights made of plastic. Simply, cut and painted, if we add a nice fabric, the effect is elegant, cheap, and very practical. We can also personalize them with fun colors, written messages, or even hanging them at different heights.